Future 2020 Karate Olympian Fights Back from Full ACL Tear and Recovery
No Small Feat for a Mother of Two and Successful Marketing Professional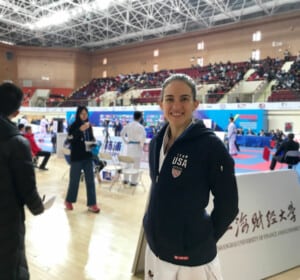 When it was announced in 2016 that karate was accepted into the next summer Olympic Games, Christina Klinepeter decided to dust off her gloves and pursue her childhood dream of Olympic Gold—no small feat for a mother of two and successful marketing professional.
Although resuming her training has been challenging, karate is in Christina's blood. She began the sport at age 4 and by 12 was multi-national champion and medaling in major world competitions.
As the sport of karate makes it's Olympic debut in the Tokyo 2020 Games, Christina hopes she will be too.  Toward the end of 2017, Christina experienced a full tear to her ACL at an international competition.
Dr. Verma and team reconstructed her knee that December, and with eyes on the prize, Christina set an aggressive goal of competing at the USA Karate National Championships just seven months after surgery.
Her objective was to be well enough to compete safely and place in the top six in order to qualify for the annual Team USA trials at the Olympic Training Center in Colorado Springs the following January.
When Women Pursue their Dreams the Whole World Wins!
Not only did Christina place top six at Nationals, she took home the bronze medal at her first competition, 7 months post-operative — an impressive feat. Two months later, Christina returned to international competitions and is performing better than prior to her ACL surgery to repair the full tear.
Recently, she competed at the US team trials earning a coveted spot on Team USA, and this month she will represent the United States at the Pan American Championships in Panama. She has a full schedule for 2019, with each competition bringing her closer to her Olympic dreams.
Christina believes that when women pursue their dreams, the whole world wins. As a parent, she is modeling what it means to take risks, train hard and go after her dreams with grit and grace.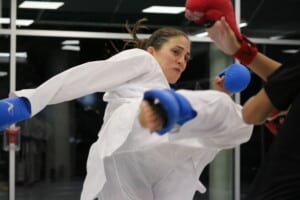 She is also passionate about helping people understand the connection between eating well and living their best life, which she is able to do as an executive at Eat Purely, a healthy, on-demand meal delivery service in Chicago that makes it possible for people eat well conveniently.
As Christina pursues gold at the 2020 Olympics, she knows that she's already won because of what she will have accomplished in the process. She is proof that an athlete can come back from a major injury such as an ACL tear and compete at the highest levels in the world.