Our Team
Lisa Raaf
Physician Assistant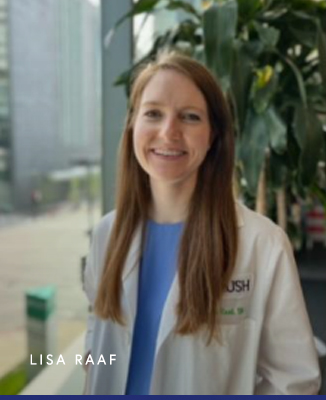 Meet Lisa, a dedicated sports medicine physician assistant with a passion for helping patients recover from injuries and achieve their health goals. She practiced general orthopedics before joining Dr. Verma's team in 2019, where she continues to provide compassionate care and support to her patients.
Lisa's educational background includes a degree in Biology from the University of Notre Dame, followed by her Masters in Physician Assistant Studies at Rosalind Franklin University of Medicine and Science in 2018. Her rigorous training and expertise enable her to provide top-notch medical care to her patients. She enjoys treating patients in clinic and in the operating room.
When she's not working, Lisa loves to indulge in her other passions – baking and traveling. Whether whipping up a new recipe or exploring new destinations, Lisa approaches everything she does with the same dedication and enthusiasm that she brings to her medical practice.
---
Lauren Rooney
Physician Assistant
Lauren is a skilled orthopedic physician assistant with a passion for helping patients achieve optimal health and wellness. With a strong academic background and years of experience in the field, she brings a wealth of knowledge and expertise to the practice.
Lauren got her start at Hope College, where she studied biology. After graduation, she attended North Greenville University in South Carolina, where she earned her physician assistant degree.
Since then, Lauren has worked with a diverse range of patients, from athletes recovering from sports injuries to seniors dealing with joint pain and arthritis. Her dedication to patient care and commitment to staying up-to-date with the latest medical research have earned her a reputation as a trusted and reliable provider.
In her free time, Lauren loves spending time with her family, especially her niece. She also enjoys staying active and traveling when she is not in the office or operating room.
---
Nathaniel Davidson
Physician Assistant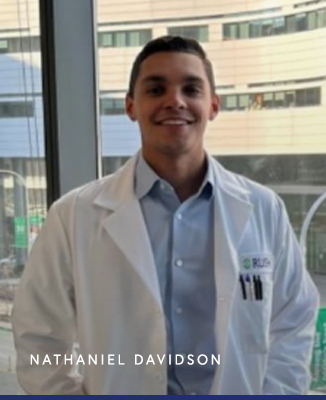 Nate is a physician assistant who joins our practice after working in general surgery in Northwest Indiana. He graduated from Illinois State University in 2017 with a Bachelor's degree in biology and later earned his Master's degree in Physician Assistant Studies from Rosalind Franklin University in 2021.
Nate's love for sports and the outdoors has also played a significant role in his work as a PA. He understands firsthand the importance of being able to stay active and engaged in the activities you love, and he works tirelessly to help his patients achieve that same level of freedom and mobility. His responsibilities include evaluating injuries, developing treatment plans, and assisting in the operating room to help the patients recover and perform their best.
---
Evelina DeAvila
Medical Assistant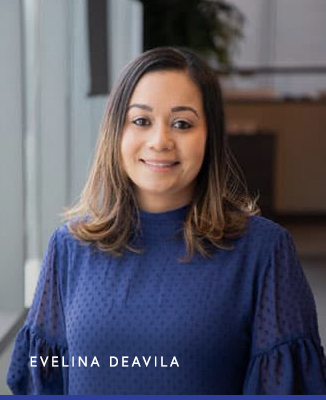 Evelina graduated from Robert Morris University in 2006. After graduation, Evelina worked as a Medical Assistant for an occupational health clinic. She has been working as Dr. Verma Medical Assistant since 2009. She assists Dr. Vermas on all administrative and medical aspects of the practice during clinic. She is responsible for ensuring a cohesive surgical experience for patients by providing patients with all information they may need prior to surgery. Evelina is fluent in Spanish.
Overall, Evelina enjoys the opportunity she has to help patients during clinic. She finds that the most rewarding aspect is working with such a dynamic and talented team. Currently, she is pursuing her Bachelor's Degree in Applied Health Sciences with minor in Marketing.
---
Juliana Lopez
Patient Concierge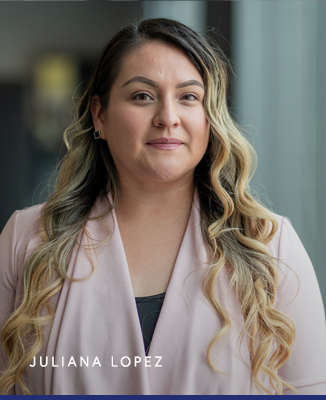 My name is Juliana I graduated from Medical Assisting School in 2013 with honors and my BLS certification. I began working in the medical field out of an Occupation health facility. I have been in the Medical field ever since. I started with MOR in 2018 as a medical assistant and had some training as an Ortho tech. When offered the position with Dr. Verma's office I was more than excited to accept the offer as I had previously worked with his practice and enjoyed the teamwork. I enjoy my administrative duties as I still can use my clinical knowledge to help our patients to the highest level of care possible. In my spare time I love to cook, spend time with my family and my favorite, ride my bike.
---
Vivianna McGee
Admin Assistant