New Rotator Cuff Repair Device Launched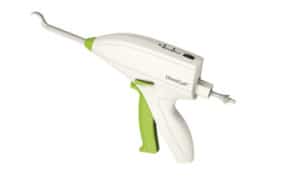 MinInvasive Ltd, a company based in Magal, Israel, has launched a new rotator cuff repair device into the U.S. market called OmniCuff.
The new device is a transosseous rotator cuff repair tool which eliminates the need for suture anchors. The device itself is disposable.
The company told OTW that 26 OmniCuff system cases have been used during the first two months of the device's limited release in the United States since October.
"We are very pleased that within the first 8 weeks of limited U.S. market release, the OmniCuff System has been successfully used by several very reputable sports medicine surgeons in 26 rotator cuff repair procedures," said MinInvasive CEO Ronen Raz.
Joseph Abboud, M.D., utilized OmniCuff at the Rothman Institute at Thomas Jefferson University in Philadelphia for several rotator cuff repair surgeries. He said he is "extremely pleased with the technical ease and reproducibility of the device as well as the tremendous potential for direct cost savings."
At Beth Israel Deaconess Hospital in Plymouth, Massachusetts, orthopedic surgeon Walter Stanwood, M.D., has completed more than a dozen surgeries with OmniCuff. He said that system offers "a very straightforward technique that minimizes steps, with an elegant device to consistently create transosseous fixation in a rotator cuff repair model. OmniCuff has enormous potential in any location that a tendon bone repair is performed."
According to Nikhil Verma, M.D., professor and director of the Division of Sports Medicine and Shoulder Surgery at Rush University Medical Center in Chicago, the device also "allows for a seamless transition between traditional anchor-based repair, and an anchorless solution."
"In addition, the availability of a technologically advanced and easy to use anchorless device has the potential to disrupt the market with a lower cost solution which is of paramount importance given recent movement of these types of cases to outpatient facilities and the emphasis on value-based care," Verma said.
Full Article: New Rotator Cuff Repair Device Launched
See All News